Amazing Amazon!! E-commerce news by Nabil
You can read this article in 9 minutes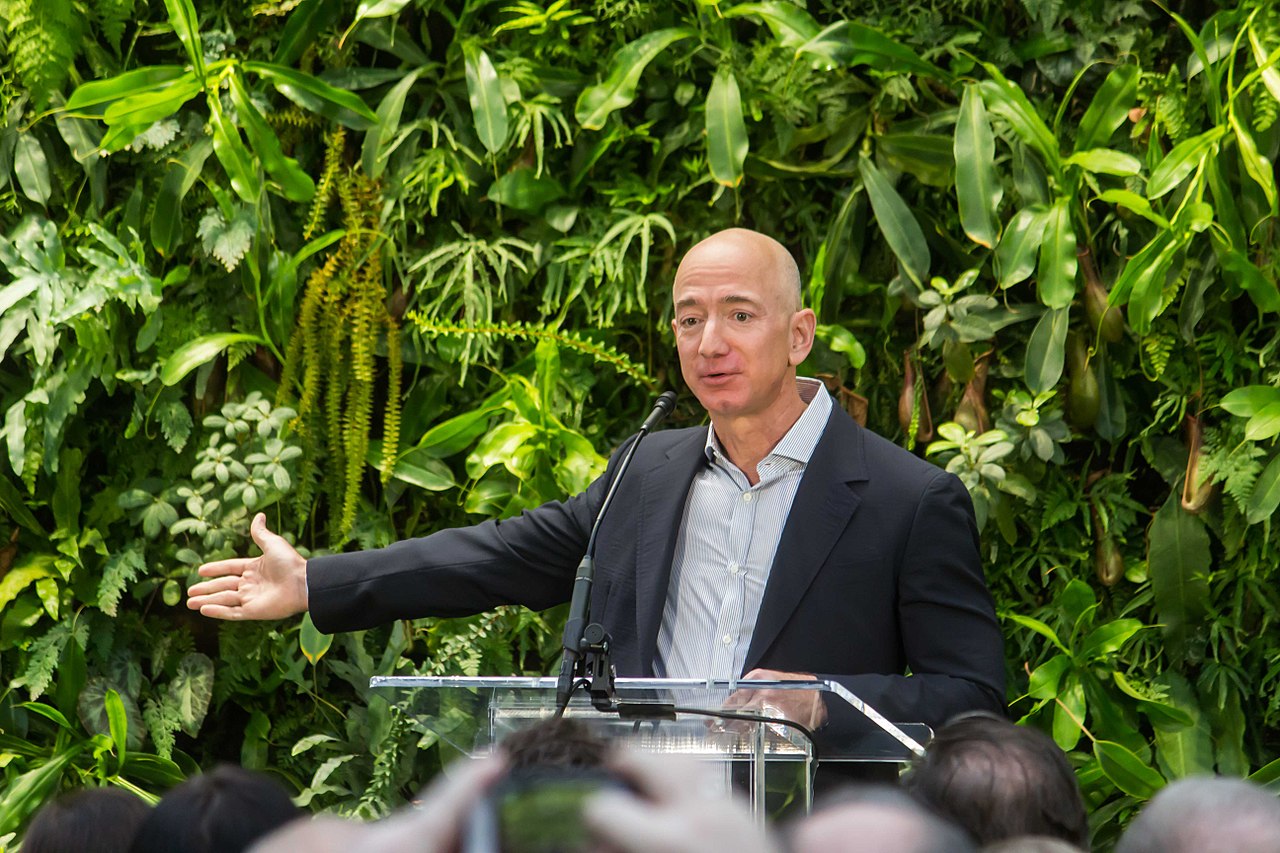 Important week in the world of e-commerce which started with record-breaking quarterly numbers at Amazon & the announcement of Bezos handing over the CEO job!!
Also in the news:
Uber buying Alcohol Delivery service Drizly
Just Eat Takeaway.com raises €1.1 billion
Amazon is testing Rivian electric delivery vans in Los Angeles
Asos acquired four Arcadia Group brands
Rebag Marketplace launch Clair AI
Good Eggs raises $100M and plans to launch in Southern California
India's Zetwerk raises $120M for B2B manufacturing parts marketplace
Jeff Bezos steps down as Amazon CEO
BREAKING: Jeff Bezos says he will step down as CEO of Amazon. https://t.co/RuVyOGBK7B

— NBC News (@NBCNews) February 2, 2021
After 27 memorable years since founding Amazon!  Jeff Bezos is handing over the CEO job to Andy Jassy (CEO of Amazon Web Services). Bezos will be remembered as "the pioneer of ecommerce" and probably the most influential person in the growth of ecommerce globally.
Why Andy Jassy?
Many people were surprised by the choice but it might be because:
Jeff Wilke (CEO of Amazon's worldwide consumer business) and who was one of the natural choices for succession of Bezos announced last year he was retiring in 2021 !
AWS Is by far the most profitable business of Amazon (but not the one who have defined AMZN in most of the world!)
My favorite part of Bezos letter to Amazon employees:
"…Keep inventing, and don't despair when at first the idea looks crazy. Remember to wander.
Let curiosity be your compass.
It remains Day 1…"
Btw, the company reported an amazing quarter sales at $111Bln!! The company has benefited from the Covid-19 pandemic perhaps more than any other, fueling a 38% spike in 2020 net sales compared to 2019.It feels like Bezos is leaving after winning the WorldCup!! (he is certainly not really leaving or retiring)
Last-mile delivery
Uber agrees to buy alcohol delivery service Drizly for $1.1 billion
Uber said that it will acquire Drizly, a Boston-based alcohol-delivery service, for $1.1 billion in stock and cash https://t.co/d7ymbuAb7q pic.twitter.com/eDWVpadOay

— Forbes (@Forbes) February 2, 2021
 From Mobility to Delivery of Everything!
Uber continue it's aggressive acquisition journey to win the war on "delivery platform of everything"
After Postmates & Cornershop last year, now it's Drizly which is being acquired in order to penetrate the very promising and way more profitable space of alcohol delivery !!
 Drizly has been growing 300% YoY in gross bookings last year. The e-commerce of categories like alcohol is very regulated but has been opening up in the last years!
 Online food ordering giant Just Eat Takeaway.com raises €1.1 billion in a convertible bond offering
I am very proud that our team has raised €1.1B yesterday. It is only four years ago that it took us months to raise ca €400m in our IPO and I have fond memories of my first capital raise of €50 in the year 2000 😀 Thank you for the continued trust in our company and strategy.

— Jitse Groen (@jitsegroen) February 2, 2021
Just Eat-Takeaway.com is one of the European & global powerhouses in the high-stakes delivery battle with the likes of Uber (Eats), Deliveroo, Delivery Hero and (many many) more!
As the coronavirus pandemic has increased demand for online food orders, we can expect these businesses to continue growing and taking an integral part of our lives !!
The big question will be…Who will win? Are these companies have a chance to make this business profitable prior to autonomous deliveries?
Read more HERE.
Amazon is testing Rivian electric delivery vans in Los Angeles
Amazon is testing Rivian electric delivery vans in Los Angeles https://t.co/cmVMZJiAwo

— CNBC (@CNBC) February 3, 2021
In Sep2019, Amazon ordered 100K electric delivery vans from EV startup Rivian!
By 2024, the 100K vehicles should on be on the street delivering your products.
That process started officially on the 3rd Feb 2021 with Rivian-Amazon launch in Los Angeles and planning to launch in 16 cities in the US by end of 2021!
After that, you can expect an ALL IN rollout!!!
This will boost use & adoption of electric vehicles. It will push the sustainability agenda in the US and worldwide!
Exciting times ahead!
Retail
Asos acquired four Arcadia Group brands: Topshop, Topman, Miss Selfridge, and HIIT.
Asos buys Topshop and Miss Selfridge brands for £295m https://t.co/6XH8c8ALvX

— The Guardian (@guardian) February 1, 2021
ASOS has acquired the Topshop, Topman, Miss Selfridge and HIIT brands (intellectual property only). The cost of £265m will be paid from ASOS' existing cash reserves, and the deal is due to complete on 4 February 2021.
However, the digitally native brand is not going into brick & mortar!! This acquisition is not including the store network and shows the importance of Multi Brands strategies and the power of data! You can imagine that the intellectual property acquired in this deal includes a lot of consumer data & insights!!
Ecommerce Technology
How Artificial Intelligence Will Change the Way You Shop for Your Next Handbag
Using artificial intelligence, Rebag's new image recognition tool, Clair AI, is the Kelley Blue Book for luxury handbags.https://t.co/KWyjYomGFQ

— Vogue Magazine (@voguemagazine) February 3, 2021
Rebag (Second hand luxury marketplace) just launched a revolutionary functionality called Clair AI!
Clair AI is the World's First Image Recognition Technology for Luxury Resale!
Imagine if you could scan any used item that you have home (or that you see on a screen) and know immediately the value of that used item and sell it instantly!!
Sounds great, no?
Well, Rebag might have started a major revolution in the way we think about ReCommerce. The solution provides the ability to scan bags, watches & accessories and get an instant offer to sell it! (it works also for the digital scan)
I made a little experiment to test it and its! Amazing!!
Appraisal obtained in less than 60 seconds! I didn't go through the checkout as I don't have Louis Vuitton bags, sorry couldn't make the full experiment 🙂
StartUps
Good Eggs raises $100M and plans to launch in Southern California
Grocery delivery startup Good Eggs announced it raised $100 million in new funding!
Another start up that has grown significantly in the pandemic. The company has grown revenue to the nine f
We have some great news to share this afternoon. We've announced $100M in funding to expand to Southern California and continue investing in the best experience for our customers! https://t.co/zoO5YpzqEl

— Good Eggs (@GoodEggs) February 3, 2021
igures (more than $100 million), hired more than 400 employees and nearly doubled its customer base.
India's Zetwerk raises $120 million to scale its B2B marketplace for manufacturing parts
We are proud to share our Series D.

Thank you Greenoaks, @LightspeedIndia @Sequoia_India @KaeCapital @Accel_India for your trust and partnership in us as we build from India, for the world, the next chapter in #manufacturing.https://t.co/ZDsvVYvPsi

— ZETWERK (@zetwerk) February 8, 2021
The rise of ecommerce is penetrating any category of products!! You are probably not buying industrial parts everyday but many companies do!!! And this is a largely untapped market segment at this stage, reason why Zetwerk is getting a lot of attention and money from investors!
Zetwerk provides a business-to-business marketplace for manufacturing items, they connect OEMs (original equipment manufacturers) and EPC (engineering procurement construction) customers with manufacturing small-businesses and enterprises.
Not the most sexy business but certainly very promising!!
Nabil Malouli is VP, Global E-commerce for DHL Supply Chain where he leads the innovation, strategy and product development of its e-commerce fulfilment and last-mile solutions.
---
Photo credit @ Seattle City Council/ Flickr