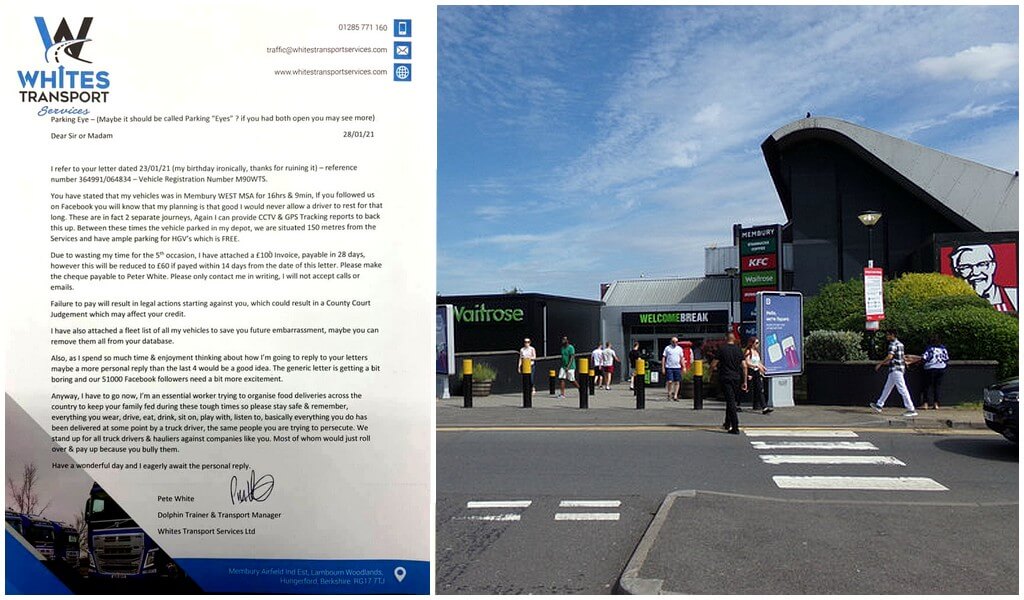 British haulier threatens legal action over false parking charges
You can read this article in 5 minutes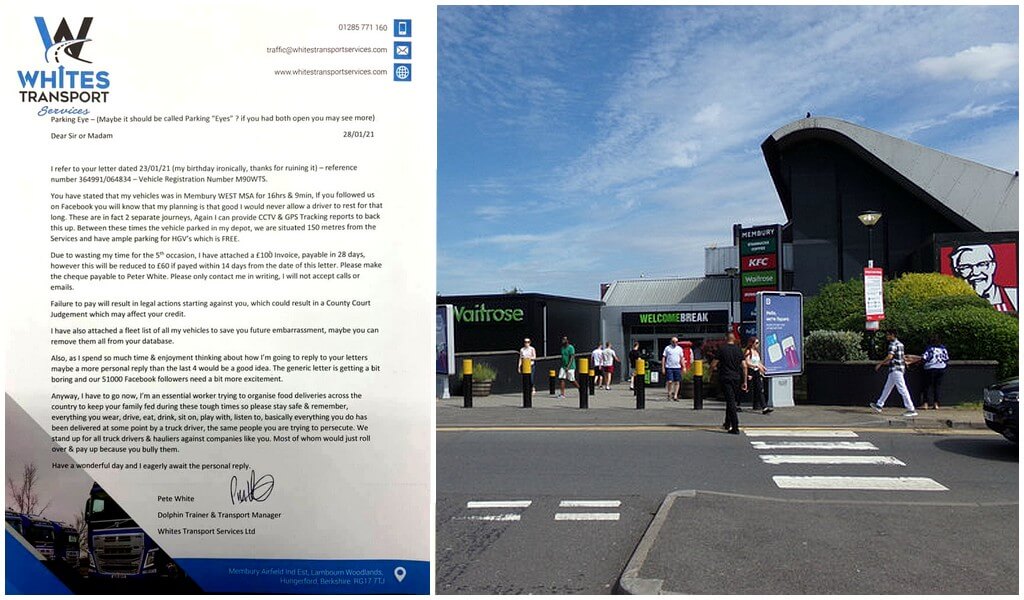 The boss of a British road transport company has written a witty response to a car park management services firm who have repeatedly been sending him false parking charges.
Pete White, who runs Whites Transport Services Ltd, published the letter on Facebook yesterday and it has since gone viral in many trucking groups.
Whites Transport Services has a depot located very close to Membury Services on the A4, where the Parking Eye company are responsible for ensuring parking is paid. Parking Eye has sent the haulier 5 parking fines for long stays at Membury services, despite the fact Pete White's trucks were parked at his depot.
Mr White has written to Parking Eye on several occasions regarding the wrongly administered parking charges, but continues to receive more fines.
After receiving the 5th parking charge, Mr White decided to a take sterner approach with his next response.
In an amusing letter addressed to Parking Eye, the haulage boss threatened to take legal action unless he received payment for £100. The £100 figure referred to in the letter, as well as the lower £60 fee if paid within 14 days, were ironically included as these are the same terms Parking Eye insist on when dishing out their fines.
In the letter, which can be read below, Mr White also had a dig at Parking Eye's inability to send personal letters and secure their own car parks.
---
I refer to your letter dated 23/01/21 (my birthday ironically, thanks for ruining it) – reference number 364991/064834 – Vehicle Registration Number M90WTS.
You have stated that my vehicles was in Membury WEST MSA for 16hrs & 9min, If you followed us on Facebook you will know that my planning is that good I would never allow a driver to rest for that long. These are in fact 2 separate journeys. Again I can provide CCTV & GPS Tracking reports to back this up. Between these times the vehicle parked in my depot, we are situated 150 metres from the Services and have ample parking for HGVs which is FREE.
Due to wasting my time for the 5th occasion, I have attached a £100 Invoice, payable in 28 days, however this will be reduced to £60 if paid within 14 days from the date of this letter. Please make the cheque payable to Peter White. Please only contact me in writing, I will not accept calls or emails.
Failure to pay will result in legal actions starting against you which could result in a County Court Judgement which may affect your credit. I have also attached a fleet list of all my vehicles to save you future embarrassment, maybe you can remove them all from your database.
Also, as I spend so much time & enjoyment thinking about how I'm going to reply to your letters maybe a more personal reply than the last 4 would be a good idea. The generic letter is getting a bit boring and our 51,000 Facebook followers need a bit more excitement.
Anyway, I have to go now, I'm an essential worker trying to organise food deliveries across the country to keep your family fed during these tough times so please stay safe & remember, everything you wear, drive, eat, drink, sit on, play with, listen to, basically everything you do has been delivered at same point by a truck driver, the same people y0u are trying to persecute.
We will stand up for all truck drivers & hauliers against companies like you. Most of whom would just roll ever & pay up because you bully them.
Have a wonderful day and I eagerly await the personal reply.
---
Many followers of the Whites Transport Services Facebook Page have lapped up the letter and said they can't wait to see Parking Eye's response.
The tedious parking charges are arguably the last thing Whites Transport Services would want to be dealing with given the challenges presented by coronavirus and Brexit. Earlier this month, Mr White told the BBC that the first week in January had been the most difficult 7 days he had had in the job.
---
Photo credits: Adrian Cable / Geograph UK + Whites Transport Services