DB Schenker to operate a zero-emission autonomous ship in Norway
You can read this article in 2 minutes
DB Schenker has announced its plans to operate a zero-emission ship in Norway. The fully electric coastal container feeder will be 50 metres long and can carry 300 deadweight tons of cargo.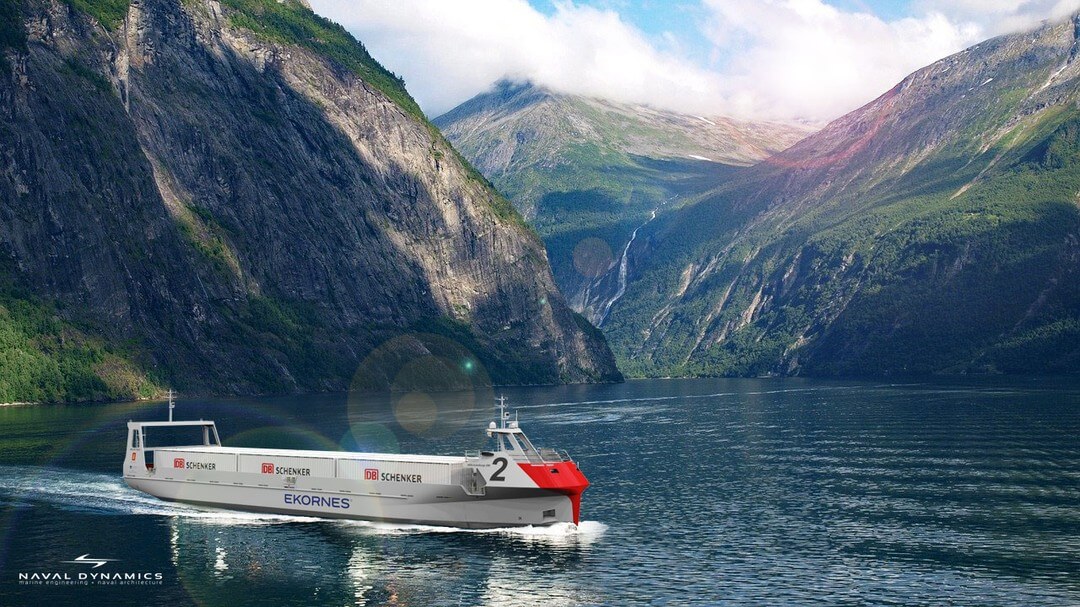 DB Schenker together with its cooperation partners – the furniture producer Ekornes, the vessel designer Naval Dynamics,  the marine technology company KONGSBERG and the autonomous vessel operator Massterly – have revealed their joint project to replace the traditional feeder vessels utilized along the stretch of the Norwegian coastline around Ikornnes and Ålesund.
The electric, short-sea container feeder leverages Naval Dynamics' NDS AutoBarge 250 concept that was developed in partnership with KONGSBERG and Massterly.
The autonomous ship will operate between Ekornes' own port, Ikornnes, and the port of Ålesund, which serves the main ocean freight ports in Europe.
The ship will complete the 43-km (23-NM) journey within three hours, at a speed of 7.7 knots. The vessel will be 50 meters long and will be able to carry 300 deadweight tons of cargo.
It is designed from the keel up for autonomous and zero-emission operation. It will run without a crew but will be monitored and controlled by staff at Massterly's Remote Operation Center (ROC), whose team members include certified navigators and naval engineers.
"We're beginning to see a general shift away from road transport of goods – with its considerable carbon footprint – toward clean, energy-efficient, short ocean freight transport," said KONGSBERG  CEO Geir commenting on the news. "We look forward to contributing our expertise and experience to this new partnership with DB Schenker and Ekornes."