Last Mile Brief 13/01/2023: Shopee announces shock departure from Polish market
You can read this article in 7 minutes
In today's Last Mile Brief, we've the lowdown on Shopee's sudden decision to leave Poland, plus over 20 news items from around the world concerning the likes of Amazon, Deliveroo, FedEx, Getir, DPD, Walmart and others.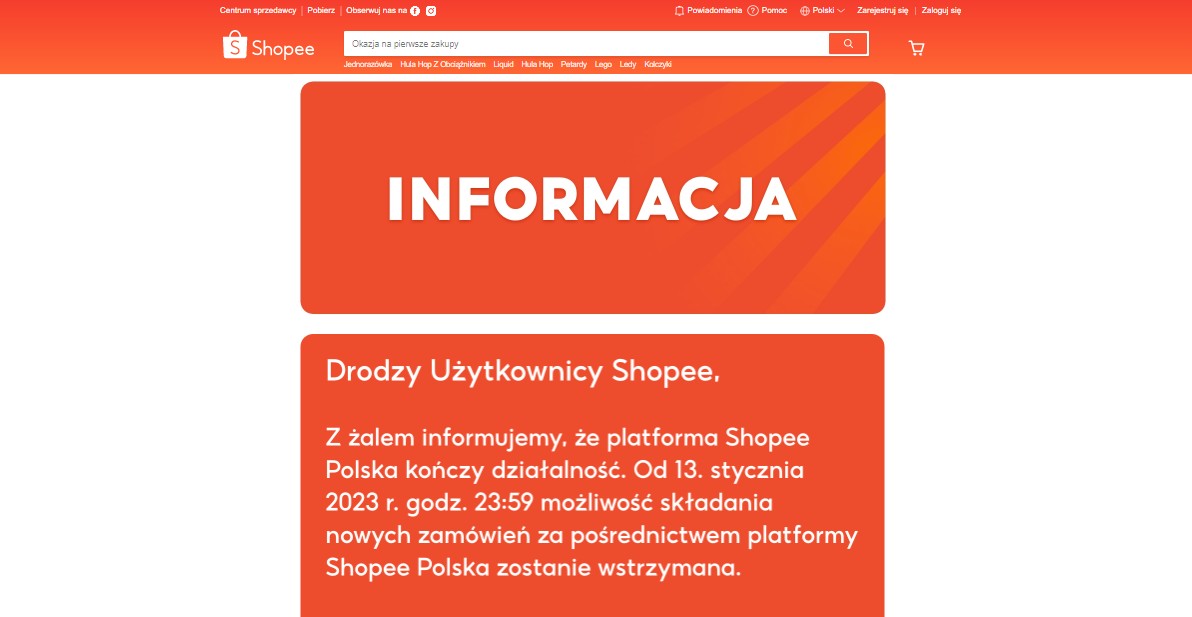 Today's headline story: Ecommerce platform Shopee announces shock departure from Polish market
In a shock announcement, ecommerce platform Shopee has informed its customers in Poland that its services will no longer be available in the country from today, 13th January.
The move comes after Shopee entered the market as recently as September 2021, armed with an aggressive advertising blitz.
The company had no shortage of competition to grapple with, however. Allegro has long established itself as the market leader in Poland, while Aliexpress and Amazon have also entered the fray in recent years.
Although the decision was something of a shock, especially given Shopee had recently entered the Polish market, the company had already taken the same move in both France and Spain.
As for what was behind Shopee's departure, a spokesperson told Polish daily newspaper Rzeczpospolita:
"We're trying to focus on the most promising development opportunities available to us. Taking this into account, as well as the fact that the region continues to experience significant macroeconomic uncertainty, which distorts the assessment of development opportunities in the long term, we have decided to terminate our operations in Poland."
That said, according to many media outlets in Poland, it is also Shopee's cringeworthy advertising campaign that has had a role in the company's downfall in the Polish market.
The Singaporean ecommerce company initially ran with a campaign with a mindlessly repetitive theme tune that annoyed viewers watching content on their TVs, computers or smartphones. They then ran a divisive campaign featuring a Disco Polo star loved by some but hated by others.
This was encapsulated in the aforementioned Rzeczpospolita report, which used the words "no more annoying ads" in its title.
Last Mile Experts analysis by Marek Różycki:
"This is doubtless good news for Allegro who also beat the e-commerce behemoth, eBay, in a David vs Goliath fight several years ago. Alibaba Group will also benefit from this unexpected move.  In terms of the last mile, Shopee volumes will have anyway been served by the likes of InPost and DPD Polska Sp z o.o. but will now partially support Allegro Logistics and Cainiao Network as the respective volumes go to their parent companies."
---
Europe round up
---
North America round up
---
News from the rest of the world
---
Your Last Mile Brief is co-produced by:
  & 
---
Photo © Copyright Thomas Nugent and licensed for reuse under this Creative Commons Licence.