Trucking Girl goes to Brussels to fight for drivers. She asks for support
You can read this article in 3 minutes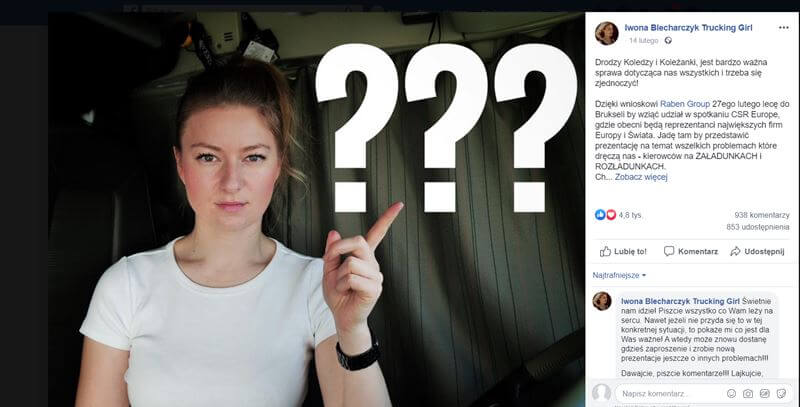 Iwona Blecharczyk, also known as Trucking Girl, goes to Brussels on 27 February to speak at the meeting of CSR Europe – a network of organisations operating in Europe with a view to corporate social responsibility. She wants to fight there to improve drivers' working conditions. As she says, she needs the support of her colleagues, so she made an appeal to them.
Dear colleagues, there is a very important issue concerning all of us and we need to unite!," appeals Blecharczyk on Facebook.
She explains that she is going to a meeting at the end of February, during which she will talk about the problems associated with loading and unloading.
She asks for help in preparing for the presentation – to send stories and photos showing the terrible conditions the drivers have to face at work.
"The things I'm going to talk about won't be nice to listen to, and probably many people will want to say that I'm exaggerating and making things up. Especially since I'm a 'fine blonde'. But if this post has thousands of comments, shares and likes, it will no longer be possible to ignore the issue and instead the companies might consider improving conditions for drivers," she explains.
 A Trucker is not a dog
This is not the first time that the popular Trucking Girl has called for changes in working conditions in the industry. Last April, there was a lot of publicity about her initiative "A Trucker is not a dog". Iwona Blecharczyk founded the Kierowca nie pies –  A Trucker is not a dog group on Facebook, where drivers from all over the world commented on their experiences.
Although the majority of posts and photos focused on the poor condition of toilets and the lack of resting places, there was also some praise for model parking lots.
However, it seems that there are still not enough of them. Will you help Iwona Blecharczyk?
Photo: Iwona Blecharczyk Trucking Girl / Facebook