British haulier sees DVS benefit as footage used to absolve driver from blame
You can read this article in 2 minutes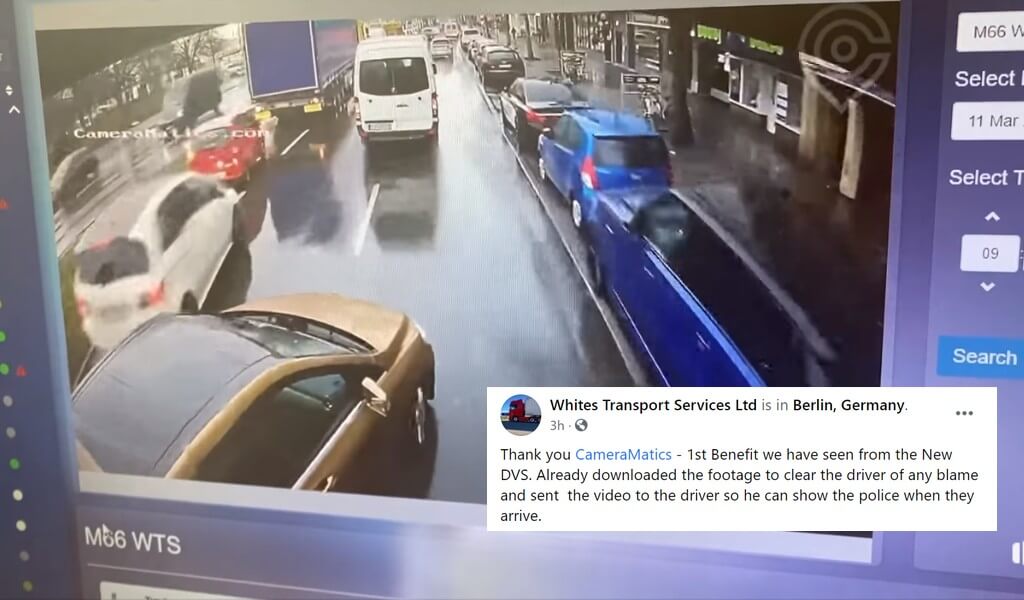 Some hauliers have been frustrated by the need to fork out for upgrades to meet London's new Direct Vision Standard. However, Whites Transport Services has pointed to a key benefit of its new DVS system, which was used to quickly absolve one of their drivers from blame during a minor accident in Berlin earlier today.
Footage of the accident was accessible remotely via the company's camera system, which meant it could be downloaded immediately and sent to the driver for him to then show the police.
The video was also uploaded to the Whites Transport Services Facebook Page earlier today, sparking a debate as to how much of a role the lorry driver played in the accident.
Most commenters agreed with the assessment that the lorry driver was not at fault, though there were also a few doubters. The administrator of the Whites Transport Services Page stressed that after seeing the footage, the police had said that the car driver was entirely to blame.
Interestingly, Berlin was one of 9 major European cities that recently urged governments to agree on a uniform direct vision standard for 2021. Therefore, it may not be that long until all the trucks operating in the German capital must have similar systems installed.
---
Photo credit: Whites Transport Services