Fleet electrification: DHL Express, Sainsbury's and Amazon take further steps
You can read this article in 3 minutes
Clean air zones, company climate targets and client pressure are all pushing companies to prefer greener vehicles when planning their annual fleet replacements. DHL Express UK has ordered 270 electric vans for its last-mile deliveries, Sainsbury's is deploying smart charging for its new fleet of electric refrigerated delivery lorry trailers, and Amazon has just received five 37-ton electric DAF tractors.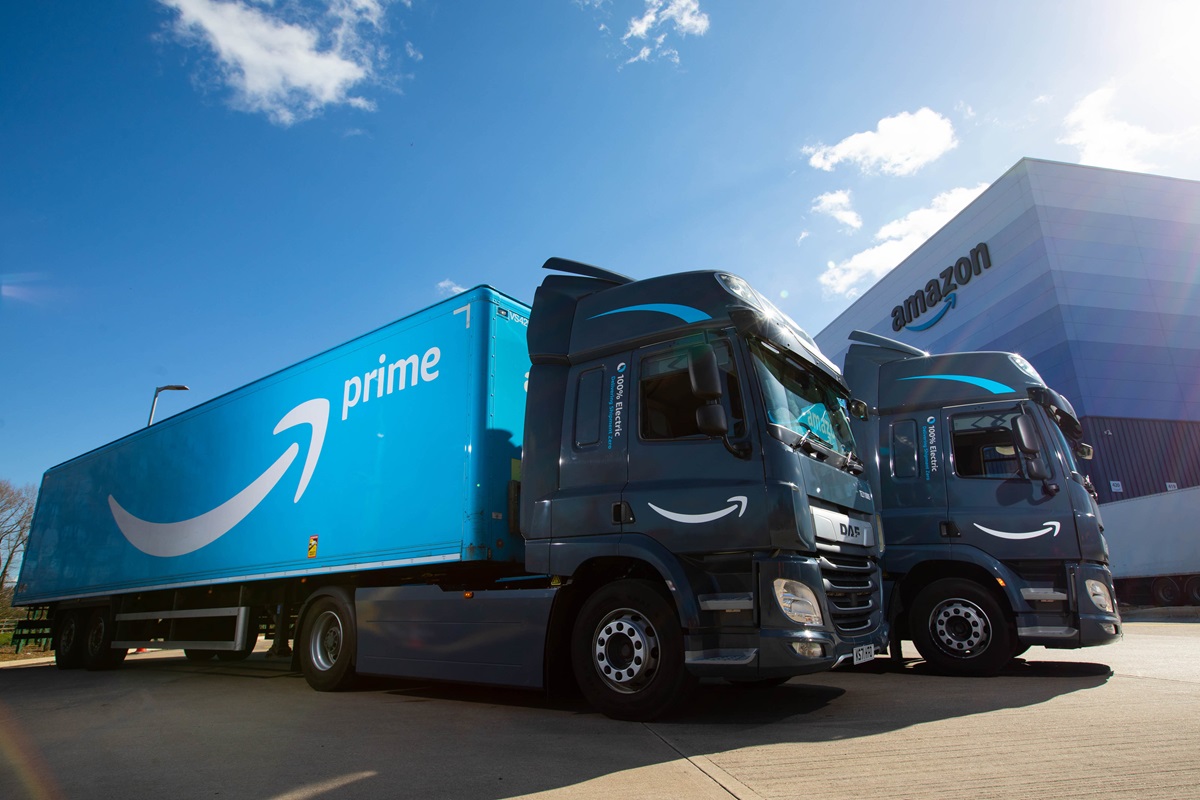 DHL Express UK – 270 electric Ford Transits
270 electric Ford Transit vans will be rolled out in the DHL Express fleet this year, which will do last and first mile deliveries for the international express carrier, the company announced this week.
The vehicles will go into operation between May and September and will serve 30 different locations including London, Birmingham, Manchester and Edinburgh.
With a range of around 140 miles per charge and a payload of close to one tonne, the Ford E Transits are very similar to the diesel vans they replace. With a gross vehicle weight of 4.25 tonnes, they can be driven with a standard Category B license thanks to licensing derogation rules for electric vehicles in the UK.
At the same time, DHL Express has been investing in its vehicle charging infrastructure. In addition to standalone charging points across the Service Centre network, it now operates 10 fully-integrated EV sites and has plans to add 16 through this year. The move is to allow for the growth of the electric delivery van fleet in the coming years.
Amazon – 5 electric37 ton DAF tractors
Five 37-tonne fully-electric DAF tractors have joined Amazon UK's middle mile delivery fleet, transporting goods with zero tailpipe emissions. The five CF Electric trucks are the first electric middle mile trucks Amazon is operating in Europe.
The vehicles mark an important milestone towards the electrification of Amazon's fleet, forming part of Shipment Zero – Amazon's goal to deliver 50% of Amazon shipments with net-zero carbon by 2030.
The five vehicles replace diesel trucks, resulting in up to 100,000 annual road miles fuelled with renewable electricity, preventing about 170 tonnes of CO2 from being emitted.
The DAF CF Electric is available as a 4×2 tractor (GCW: 37 tonnes) and 6×2 rigid truck (GVW: 28 tonnes) with steered trailing axle for maximum manoeuvrability. The 210 kW (240 kW peak power) electric motor draws its power from a 350 kWh (315 kWh effective) battery pack. Fully charging only takes about 75 minutes using a charging station with a capacity of 250 kW.
Sainsbury's – smart charging for electric refrigerated delivery lorry trailers
UK supermarket Sainsbury's is to deploy smart charging for its new fleet of electric refrigerated delivery lorry trailers to cut as much as 20 tonnes of carbon emissions each year.
The trailers, which run their chiller units from batteries, rather than from diesel generators, were trialled in 2021 and are now being integrated into Sainsbury's delivery fleet. The supermarket chain is now working on a smart charging system that will allow the batteries in these trailers to be charged from low-carbon energy sources and charging at night.
The move will not only cut carbon emissions associated with the refrigeration units themselves but also help the retailer manage the overall energy use in its distribution centres.