Maersk CEO Soren Skou retiring; Vincent Clerc to take his position
You can read this article in 2 minutes
As Maersk CEO Soren Skou is retiring after leading the company for seven years, Vincent Clerc is to take over the baton, the company has announced today.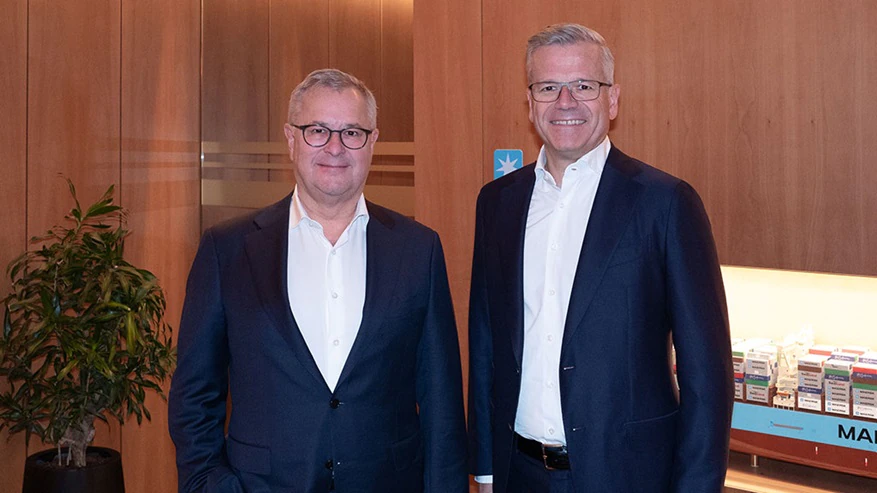 "Since 2016, Soren Skou has led the transformation of A. P. Møller – Mærsk A/S from a diversified conglomerate to an integrated logistics company and set the business on a new growth trajectory. Vincent Clerc, currently CEO of the company's Ocean & Logistic business, will succeed as CEO of Maersk effective January 1st, 2023," said Maersk, in an announcement.
Soren has worked for Maersk for almost forty years, of which eleven years as CEO for Maersk Tankers, four years as CEO for Maersk Line and close to seven years as CEO for Maersk.
Since 2019, Vincent Clerc has been the CEO of Maersk Ocean & Logistics, which contributes a significant part of the company's invested capital and results.
"He has been a pivotal leader for Maersk's transformation, demonstrating great strategic acumen, an ability to execute complex plans and deliver long term shareholder value through compelling customer solutions. The strong tail winds that benefited the supply chain industries during the pandemic are coming to an end," said Robert M. Uggla, Chair of the Board of Directors.
Commenting on the news, Vincent Clerc said:
 "On the heels of a pandemic, and now with the war in Ukraine and an energy crisis upon us, there are many tough challenges ahead; challenges that impact us all and where Maersk can make a difference. Companies are rethinking their supply chains in this new environment, they are looking for more stability, and more support on their decarbonisation journey. This represents an incredible business opportunity for Maersk that we all are eager to seize."