Tesco trials 100% solar-powered refrigerated trailers
You can read this article in 2 minutes
In a joint initiative, Tesco and Marshall Fleet Solutions are currently working on a trial of 100% solar-powered refrigerated trailers within the Tesco refrigerated trailer fleet.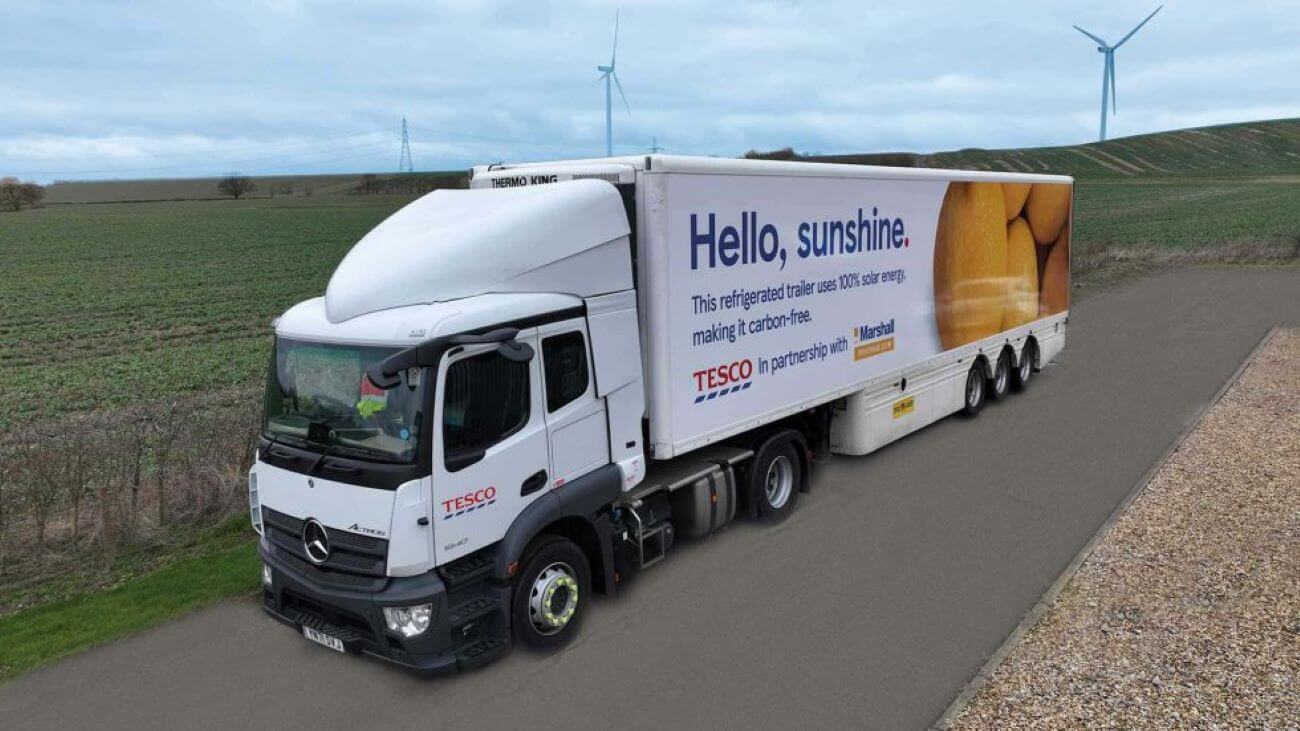 The first 100% solar-powered trailers fitted with the Titan system from Marshall are now on the road and servicing Tesco distribution centres across the country.
Titan uses power produced from lightweight, high powered solar panels and stores the electrical energy in long-life lightweight lithium batteries to provide power to the refrigeration unit.
"We've got 4,200 trailers in our distribution fleet transporting fresh goods such as fruit, vegetables, ready meals and sandwiches," says Fleet Engineering Manager Cliff Smith. "Around 3,000 of those are refrigerated and with a goal to bring carbon emissions to net zero by 2035 and the imminent removal of red diesel entitlements, we've had to look at the way our food gets to stores and customers."
So far, the company is finding that there is no detriment to operational performance, 100% saving on diesel costs and a good ROI.
Titan's system-independent and autonomous design is capable of providing 100% free power to all makes of onboard refrigeration units, tail lifts and other vehicle-mounted electrically powered applications on all vehicle sizes from LCVs, small trucks, to HCVs, both single temp and multi-temp.
"With a significant trailer fleet, the successful use of solar powered refrigerated trailers within the Tesco distribution operation cannot be underestimated, in terms of its significantly positive environmental impact. Both Tesco and MFS share similar sustainability and carbon reduction plans," explains MFS Managing Director Mark Howell. "As a result of MFS's long association with Tesco as approved suppliers of Thermo King transport refrigeration systems, this initiative builds on the strength of this relationship, whilst helping to deliver on Tesco's global sustainability goals."