sennder co-founder eyes more acquisitions, new markets, and a strategic partner
You can read this article in 12 minutes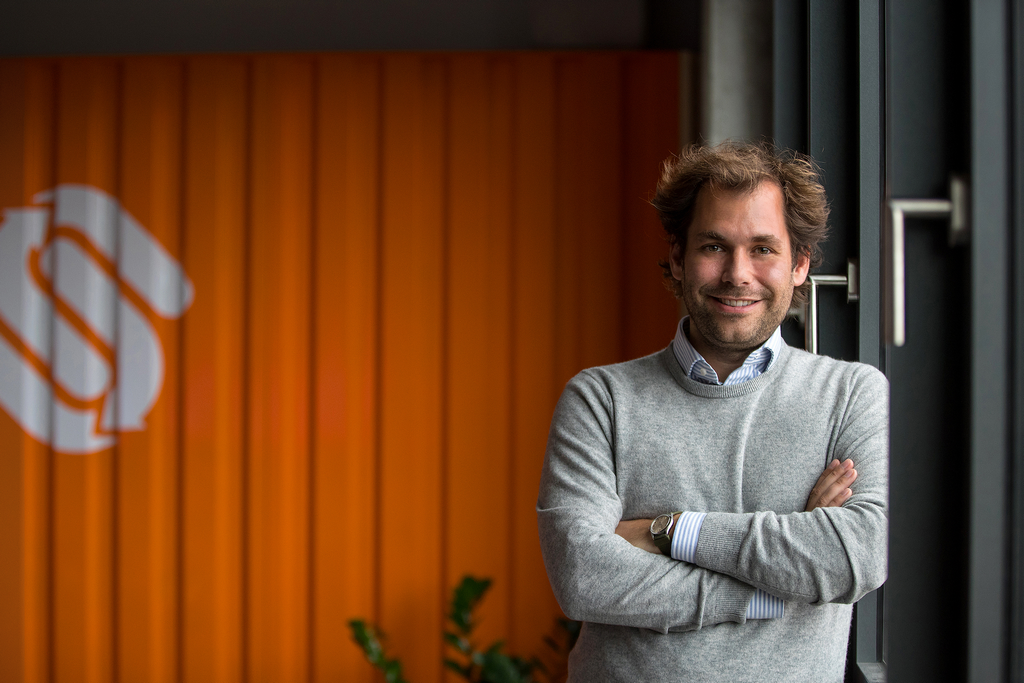 Since we last spoke to sennder around 5 months ago, the digital freight forwarder has raised $160m in series-D financing, rebranded Everoad by sennder to sender France, and agreed a partnership with Zeitfracht. Naturally, they've been busy. However, sennder co-founder David Nothacker and company have their eyes set on yet more growth.
This year sennder will continue to pursue acquisitions, target new markets for expansion and is open to further investment from a strategic partner.
Speaking to us via video conferencing, Nothacker is nonetheless under no illusions that sennder's fast growth can add complexity and bring new challenges.
In this Trans.INFO exclusive, Nothacker explains how sennder plans to overcome difficulties presented by new acquisitions, what the partnership with Zeitfracht will bring, how the company's operations in Poland will develop, and to what extent sennder has made logistics sexy again.
At the beginning of the year, an article was published in Handelsblatt, the author of which claims that the revolution in transport, announced by Sennder, Forto or Carginexx, ended in failure due to the inertia of this industry. How would you comment on that? 
Our biggest challenge at sennder is "tech adoption" by shippers and carriers. Without the adoption of innovation, a tech revolution is difficult, if not impossible. 
Logistics is at the beginning of its technological revolution. At sennder we have several examples of successful adoption (e.g. JV with Poste Italiane, SaaS agreement with Zeitfracht,). Although, despite this, we still experience industry scepticism. 
It will take us another few years to educate and convince the majority of the industry that it can generate significant value from embracing digitalization. 
In the coming years, the digitization of transport will continue, but there will be many forwarders, probably thousands, who will not have financial resources, awareness or know-how to digitize and be able to fully compete in the new market? what will happen to them and what can they do to react?
In the short to mid-term, forwarders will continue to survive for three reasons: firstly, because of high fragmentation linked to high information asymmetry, secondly due to low levels of tech adoption and, thirdly because of a lack of market capacity.  
Forwarders will maintain a "raison d'etre" until shippers and carriers (defined as truck owners) get connected more efficiently through technology. 
In order to survive in the long term, a traditional forwarder needs to reach a certain size, I would say more than €500m/year in revenue as a high level estimate, and/or completely move from "pen and paper" to a digitized and optimized offering using innovative third-party technology. 
Continuing on the digitalisation theme, one of the key elements of the Zeitfracht deal regards the SennOS operating system. Could you tell us a little bit about the system and who you think can benefit from it?
We developed the system over the past three years, and use it internally – meaning sennOS will benefit from every software update we make. 
You might ask yourself, why are you doing that? And if it's attractive, why didn't you do it in the first place? 
Firstly, we're doing it because the technology can really make a difference. We used the solution in Italy, where we have over 100 million euros in revenue and made a profit in year one, out-performing our predictions. We consequently saw the potential of sennOS to generate value at scale. 
Secondly, we realized that even if we hit our targeted 2 billion euros in revenue by 2025, sennder would still account for less than 1% of the European road freight market. We wanted to replicate our success in Italy with Poste Italiane but realised that a joint venture in every company was not possible. We agreed that a SaaS approach would be the right one. 
We plan to offer the service to shippers – the big ones that don't have a TMS or anything else. And then on the other side, to carriers. The carriers are divided into two – those over 100 trucks and the smaller carriers with less than 100 trucks. 
The small carriers get the service for free. They can fleet plan, manage invoicing and orders as well as their track and trace plan. We offer it for free because it allows us to suggest additional loads to carriers, offer them fuel cards and invoice factoring – it's all managed on our platform. 
Bigger companies like Zeitfracht get our full solution – not only the planning or the management or control, but the full network optimization pricing and pay use – they pay a fee per transaction. 
Now the question is, then, is that a better business model? Why didn't you do that in the first place? Did you go that way because sennder is not working? Is that why you're looking for a new business model? 
sennder is working otherwise we wouldn't have been able to raise the money that we did and there are certainly benefits of the SaaS offering – we have higher margins and we don't have to wake up at 2am and say, "yeah, the truck is on its way!" 
SaaS is an area of growth we're exploring, but 96% of our resource this year is dedicated to our core business – full truckload forwarding. 
Alongside SaaS we are testing other offerings such as value added services that we'll look to scale in 2022. 
Zeitfracht are of course a Berlin-based company. Was that an important factor that facilitated this cooperation? Even though remote cooperation is easier than ever, it is arguably a major advantage to be both geographically and culturally close to a partner.
Absolutely. We have offices in seven countries now; we don't use the active advisor model. We want to understand people, we want to be on the ground and we want to ensure the carriers and shippers are easily in contact. 
When we signed the joint venture with Poste Italiane my brother and I progressed the agreement in Italian. Fostering trust is key to any successful partnership – our ability to communicate in the local language helped broker a fantastic relationship.
The same is true of Zeitfracht; it's not a coincidence that it's a Berlin company. We met face to face a couple of times and saw in their eyes how important this deal was for them. Zeitfracht had never done such a transformation, or digitalization process – we were delighted to be the chosen partner. 
Zoom works to an extent, as I've seen with the integration of Uber Freight and Everoad. But it's harder to develop a personal connection that's built upon long-standing trust when you're working remotely. And when you are, let's say in the office, there's the coffee, lunches and journey – it's easier to speak with people. 
I find that when you're only communicating via Zoom you don't have the chance to learn if the person likes dogs, cars, watches or whatever – it's hard to foster a personal connection.  
Talking about those offices, you've had your office in Poland for around 18 months now. What plans do you have with regards to the Polish market? 
We set up the Wrocław office to generate more capacity – to act as a supplier to the rest of the organization. And since January, we have a dedicated focus on local sales within the team. 
We're also understanding that there is a lot of qualified talent in Wrocław. Finding talent is easier than in other countries. 
We have created a setup whereby everyone can put everything on one platform independently of the office they work in. So one thing we're probably going to explore in the second half of this year and maybe expand it next year, is a dedicated team that can support those functions that are not yet fully digital. In Wrocław we have a dedicated team for that. 
In 2021 we plan to focus on domestic sales with domestic customers, and later in the year, testing the centralization of certain activities, and potentially next year be in a position for the full rollout of this centralized approach.
As is well-documented, sennder are keen to expand further via more acquisitions. A lot of companies have made acquisitions successfully and gone on to great things, but there are others that have fallen by the wayside after making too many poor acquisitions – Swiss Air for example. As you look to continue your strong growth, how can you ensure that you make the right acquisitions?
It's a good question. I would compare the situation more to Coyote Logistics USA today. They also went through a couple of acquisitions and didn't always find the perfect fit, but eventually succeeded. 
We have one key advantage – our technology. This is extremely important for two reasons; firstly monitoring – in terms of tracking performance and secondly, driving efficiencies by bringing things over from pen and paper. 
We've moved the sennder France/Everoad business to the sennder platform, and the Uber Freight business has been 100% on the sennder platform since December. So our fully migrated platforms sets us up for future acquisitions. 
The other way that we are doing things differently is by targeting smaller carrier companies between 20 to 80 people and have their best interests at heart. We ensure the transition process is smooth by keeping staff and ensuring we foster cross organization collaboration. 
Listening helps us succeed, but M&A is always tricky. There's some statistics out there saying 70-80% of M&A deals do not bring the value that is expected. And we're fully aware of that. 
Moving onto more immediate concerns, what are your thoughts on the return of border controls in Europe in the shape of the new testing requirements for lorry drivers?
I'm concerned because being a truck driver is already a difficult job and Covid-19 makes it significantly harder. And the difficulty is not in the testing itself – the uncertainty is the challenge, how long a driver has to wait and what's around the corner – but, we always manage to sort it out in a couple of weeks. 
We did that when the borders were closed and opened, and with Brexit, with the quarantine requirements and so on – there's always uncertainty. It's important because truck drivers really do have a very special role in our economy and need greater appreciation. 
I'm afraid that prolonged disruption could cause the industry to lose more drivers and then there will be bigger problems for the entire industry and economy more broadly.  
And finally, one of the slogans on your lorries proudly says "make logistics sexy again". To what extent do you feel you have achieved this? 
I think we're still at the beginning of a long journey, but we have certainly generated interest in logistics from investors and young people. We have also driven the industry to start thinking more about innovation. 
When it comes to tech adoption, tech development, and all the optimizations we see in other industries, we're not there yet – it's still work in progress. We need to generate further interest in the full adoption of digital logistics solutions and are working very hard to do so. 
---