Transport and logistics of spirits or how to pack them to preserve their qualities
You can read this article in 6 minutes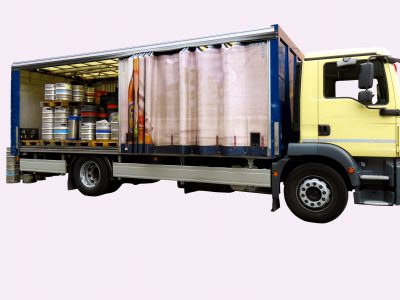 Logistics of alcoholic beverages requires technical preparation on the part of logistics operators, as well as suppliers and direct carriers. The thing is to ensure that goods do not lose their properties during storage and transport. 
Solutions for the beverage industry, including spirits, are offered by practically all major logistics operators. In fact, they usually offer comprehensive services. This is the case, for example, of DHL, whose services cover the entire beer, wine and spirits supply chain, from specialised warehousing and storage of finished goods to international freight transport, import and customs clearance as well as primary and secondary distribution. It is a fairly typical model. The operator lists the individual characteristics of such services, namely: 
– integration of inbound and outbound transport,
– international supply chain,
– storage and warehousing in a customs warehouse,
– primary and secondary distribution,
– delivery of keg barrels on a transport platform,
– packaging solutions,
– order picking,
– forecasting and replenishment of stocks,
– return logistics (including pallets, mesh trolleys, bottles and kegs). 
Logistics of spirits starts with cargo protection
In Europe, spirits are usually transported on pallets. Inside the boxes, bottles are fixed in special holes, which can be additionally equipped with cushioning or heating material. The load is additionally secured with straps or rods. Wine can also be transported in food tanks, tank containers or flexitanks. 
Wine import logistics can cause a lot of transport problems. According to the report prepared by Finelog, apart from excise duty, the bottle banding is usually carried out by the manufacturer. The problem is the location of vineyards. Wines are most often produced in agricultural regions – in rural areas as well as in less urbanised regions. This may complicate the organisation of transport. 
Stando is one of the companies with extensive experience in supplying wine from various countries, such as France, Spain and Italy. Transport takes place in tanks, barrels or bottles. Most often these are all-tanker deliveries in quantities from 8 to 25 tons. 
An important issue related to wine imports is the conditions for transporting spirits. Most of the wine is transported in glass bottles, as Stando points out. 
Unprofessional cargo securing or conditions unsuitable for the beverage (e.g. too high temperature) can quickly lead to very high losses. Wine logistics professionals ensure that if different types of wine are transported, the most expensive is the one that is most likely to spoil. Therefore, the use of an insulated food tanker ensures the highest quality of the product. To eliminate product losses, it is also advisable to buy wine in large quantities and bottle it in the country of sale. 
Hartwig, which offers international tanker transport of various liquid substances, also has extensive experience. The fleet includes, among others, tanks specially adapted for the transport of spirits, cooling devices and cargo securing systems.
Film protects the wine against temperature change
Among the in-house technologies developed by the JF Hillebrand Group (specialising in the transport of temperature-sensitive beverages) is VinLiner, a thermostatic film. It is used mainly for wine shipments, both in groupage and full container deliveries. 
VinLiner is a thermal insulation film installed inside a container or on individual pallets or boxes. The thermostatic cover is an alternative to refrigerated container transport. It is available in eight sizes, from individual wine cartons to the High Cube container. Every VinLiner has a zipper and a seal that provides extra protection when closed. The installation time in a 20' container takes one person about 10 minutes. With a 40' container, a VinLiner can be installed in about 12 minutes by two persons. Applying thermal insulation to a pallet or a box takes just a few minutes.
"This is a thermostatic film that reduces the thermal effects of radiation, conduction and convection. It minimises condensation and water leaks and provides protection against pollution and odours. It also reduces numerous environmental threats, allowing to retain qualitative indicators in 100%," explains Izabela Dąbrowska, freight & operations manager at JF Hillebrand Poland.
For more sensitive shipments, VinLiner+ is used, which is additionally equipped with a bubble wrap to provide so-called Extra Air Gap protection and slightly increase insulation. The air contained in plastic bubbles forms a heat insulator.
"This insulation becomes almost ideal solution for individual containers or cartons packed by hand, or where additional protection of sensitive loads is required in extreme conditions," explains Izabela Dąbrowska.
Flexitanks
Flexitank technology (mainly for bulk wine transport) has been very popular for years. This system, dedicated to the transport of liquids, is a tailor-made solution. Suppliers stress that thanks to the flexibility of Flexitank, every inch of space can be used efficiently. Customers are therefore able to ship up to one third more products compared to IBCs (Intermediate Bulk Container). Among other qualities, the following are mentioned:
– the lowest surface area/volume ratio;
– minimum product residue;
– a protective barrier layer (which prevents oxygen from affecting product quality);
– recycling;
– adaptability to any gas accumulation in case of secondary fermentation. 
Experts from Sealand Liquids also recall the value of ISO Tank, a steel tank placed in the frame of a standard ISO (International Standards Organisation) container. These containers are used to transport up to 25,000 litres of bulk liquid (e.g. spirits).